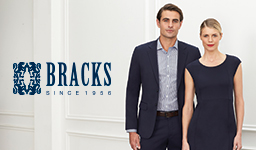 Bracks
First created in 1956, the BRACKS SLACKS Brand is without a doubt a true Australian fashion icon.

"As Australian as Brylcreem, Holden Cars and Bracks Slacks" went the saying and it has been the leading Men's trouser brand in Australasia for over 50 years.
Bracks is recognised and trusted by men who know what they want - everyday comfort and value for money work and casual wear.

From Easy care classically tailored sharp business apparel to a more relaxed casual work place or weekend look the Bracks range continues to deliver on the promise.